---
Mattress Sizing Guide
to enjoy the Perfect Fitting Sheet
The Jersey Fitted Sheets come in six sizes to fit multiple mattress sizes; due to the enormous stretch of the sheets, they have the ability to fit a number of different mattress sizes. It is important to select the right fit for your mattress.
Choose between a standard mattress depth of up to 30cm or our Alto, mattress depth of up to 45cm depth.
One sheet size will fit a range of mattresses. This is a practical side effect of our fitted sheets' tremendous elasticity.
For example, Bella Donna Jersey in a Queen / NZ King size will fit mattresses with a:
Width of 140 – 160cm
Length of 190 – 220 cm
Thickness of up to 30cm
TIP: To ensure your sheet fits perfectly, please do not use the upper limits of all three measurements (width, length and thickness) in combination. In this case, the measurements
160 x 220 x 30cm (WxLxT).
If you're reaching the upper limits of all three measurements, we recommend choosing the next size up or opting for our Alto (45cm deep) version.
If you are unsure which size would be best for your mattress, please don't hesitate to contact us with your mattress measurements and we will advise the best size. Contact Us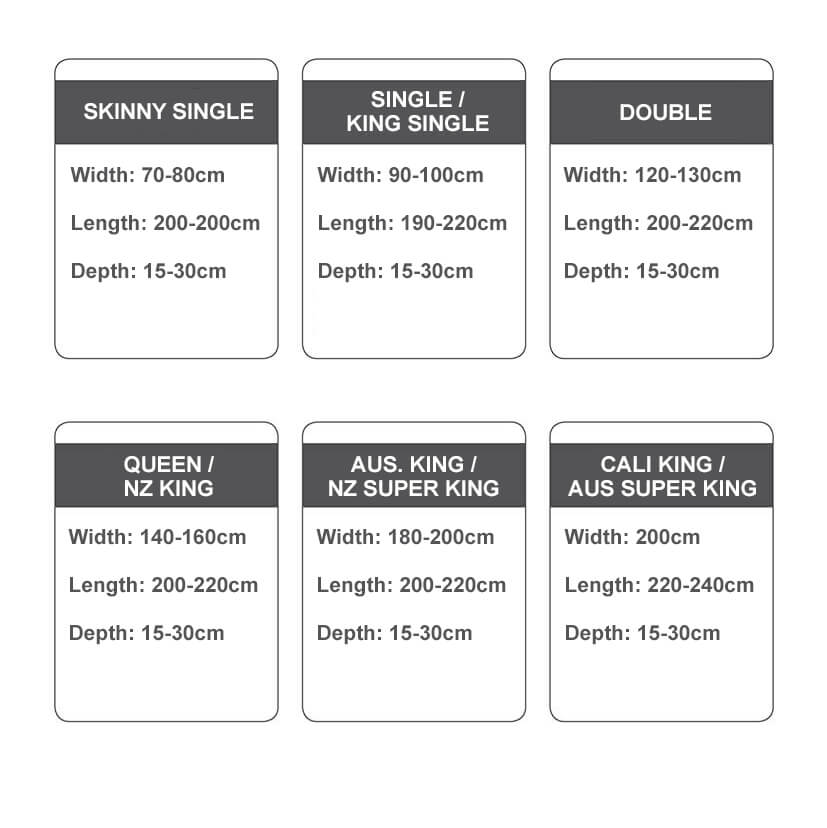 Custom-Made
A non-standard-sized bed needs made-to-measure fitted sheets and mattress protectors. Our non-standard sizes service means that fitted sheets and protective covers fit your mattress without a crease. Simply tell us the measurements of your bed system and choose your favorite fitted sheet from 54 delightful colours and different product lines. You can look forward to having high-quality linen custom-made for your bed!
Extra cost +25% on standard price!
---
You may also like
---
Bella Donna Fitted Jersey Sheets are derived from a long history of quality manufacturing and textiles, resulting in luxurious linen that makes it extra hard to get out of bed!
Bella Donna Colours
---
Fitted jersey sheets that are fit for a queen. These German-made bottom sheets have been tailored for the level of comfort that you would expect in a five-star hotel – that you can have at home. These sheets are proving highly popular for AirBnB accommodation because of the long-lasting, ultra comfortable, superbly made cotton material that doesn't need ironing.
---
The Bella Donna
Journey to Quality
Our Fitted Jersey Sheets are superbly processed and beautifully finished. They are made of long-staple, super-combed cotton which is double twisted and has a weight of 220g/m2 of yarn. This allows it to be woven into an opaque, luxuriously heavy fabric. The inclusion of Aloe Vera and silk proteins give this magnificent Fitted Jersey Sheet it's smooth, soft feel and beautiful sheen. The modern dying process ensures both colour brilliance and colourfastness.
We've Mastered
The Perfect Fit
With pristine quality, you expect a pristine fit. Our Bella Donna Fitted Jersey Sheets achieve just that. They provide a smooth fit as if tailor-made, even for extra large mattresses and water beds. This is due to the inclusion of Spandex and the extra strong Flexima in the elastic edging.
Every Jersey Fitted Sheet includes a label with size and care instructions, which we call the 'Clever Label'. You simply pull the 'Clever Label' over the top right-hand corner of your mattress – and your sheet will fit with ease, beautifully. Easy to fit also means sheets that are easy to care for. With the ability to wash them at 60º C, they are dryer safe and crease free so there is no need to iron. You will wonder how you ever managed without them.
Minimum Pilling
Once the long-staple cotton fibers have been woven, the sheets are taken through an extra finishing process called 'Gassing'. This process prevents virtually all pilling, even after years of use. Gassing involves passing the yarn through a flame, or over a heated element to remove surface fibers. It is these surface fibers and the rubbing together, that causes pilling.
As per the European way of sleeping, our Fitted Jersey Sheets are supplied as bottom sheets only. Pillow cases and top sheets are not supplied.

Free Deliveryon orders over $400

Money BackReturns

World WideDelivery

Tax FreeOrders
---
Oeko-Tex Standard
The label "Confidence in Textiles - tested for harmful substances according to STANDARD 100 by OEKO-TEX® offers consumers effective protection against undesirable harmful substances in textiles.