---
Sizing Guide
For the perfect fit
Our Summer Blankets come in two sizes; Small to suit the single bed, or is perfect to use as a 'wrap' and Large to fit a queen or king size bed.

Summer Blankets
---
Sleep under a luxurious Bella Donna summer blanket. There can be no compromise on quality summer blankets. The perfect match for your fitted jersey sheet, designed to be used without a top sheet for the ultimate climate control on hot summer nights. Ships today.
Great for HOT SLEEPERS year round.
---
Keeps You Cool on
Hot Summer Nights
A refreshing summer blanket for hot summer nights. Made from high-quality cotton with Tencel® climate control, aloe vera and silk proteins, it is an elegant addition to any bedroom. It makes an attractive addition to any bedroom and is also a great cosy blanket for snuggling up on the sofa.
And best of all: Thanks to its easily manageable size, it is also the ideal companion on journeys.
Also available as a Summer Pillowcase.
Climate Control
The Summer Blanket is designed to be used without a cover. Its sophisticated climate control ensures a more comfortable temperature and dry sleeping environment. The functional fibres help the blanket to effectively absorb moisture, thereby reducing bacteria and unpleasant odors. The inner side of the blanket is made from high-quality cotton jersey, naturally enriched with aloe vera and silk proteins.
Easy-care
Keeping your Bella Donna Summer Blanket looking pristine is surprisingly easy. Wash it at 60 degrees C in the washing machine in the morning, then put it in the dryer or hang it up to dry, and it will be ready to use again in the evening.
Sustainable Tencel®
Tencel® is derived from the renewable resource wood. It is completely biodegradable and contains no chemical additives. The wood is all sourced from sustainable forestry.
The Bella Donna Summer Blanket is made from 35% Tencel®, 41% cotton, 24% polyester (lining), aloe vera & silk proteins. Naturally certified in accordance with the OekoTex® Standard 100, awarded the Confidence in Textiles seal of approval and "made in Germany". Available in the colours 0114-off-white, 0115-mushroom, 0701-grey, 0528-amethyst and 0215-light anthracite.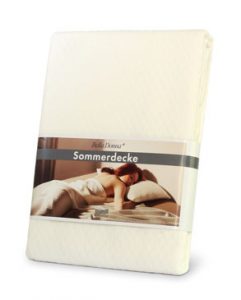 Free Deliveryon orders over $400

Money BackReturns

World WideDelivery

Tax FreeOrders
---
Oeko-Tex Standard
The label "Confidence in Textiles - tested for harmful substances according to STANDARD 100 by OEKO-TEX® offers consumers effective protection against undesirable harmful substances in textiles.